Today we have a brand new Gacha mod named "Gacha Art". By just the mod's name, you can assume it will be an artistic mod.
It is a modified version of the Gacha Club application but the only difference is that this mod has more features than the original.
This app is developed by Bakugou Rima and trust me this is one of the best Gacha mods I have seen. This app has new features like new costume designs, new props, and new pets.
And the best part about the mod is its beautifully crafted futuristic background that looks straight out of a movie. You must be thinking I am exaggerating but you have seen yourself.
We will walk you through the step-by-step guide to Downloading Gacha Art MOD (APK) for Android, iOS, and Windows.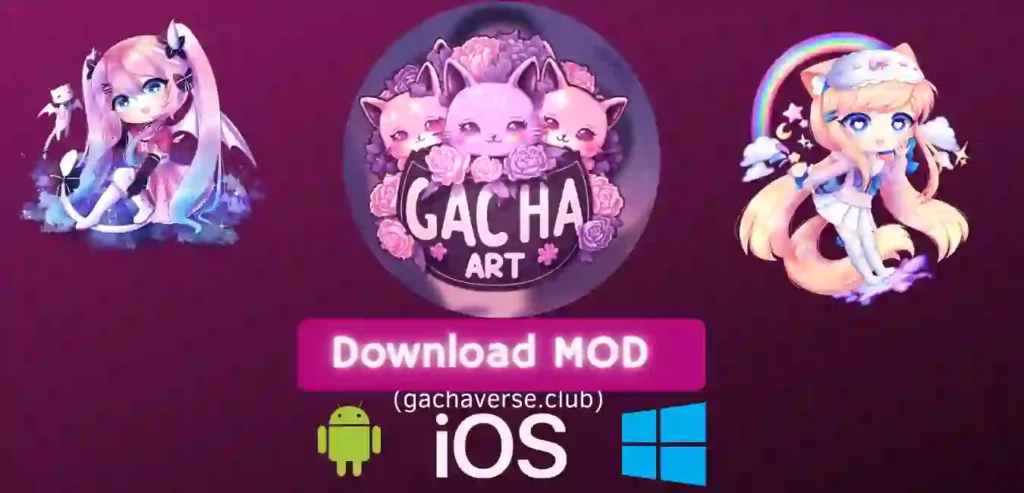 About Gacha Art MOD
Gacha Art is a Gacha Club mod created by Bakugou Rima for gacha lovers. It's a most awaited Gacha mod, and now it is ready for you to play.
The developers of this mod did a great job creating this masterpiece. The quality of the game is great, it's an amazing gift for all the Gacha Lovers.
As we mentioned above the game is pure art from character designs, Outfits, props, and especially ultimate Backgrounds that will be used to create beautiful scenes.
You can download this mod for free from our website (gachaverse.club).
How To Download Gacha Art For Free
We have listed different types of MOD files to Download. You just need to decide which device you usually prefer to play the game whether it is an Android, Windows, or iOS.
Currently, the MOD is only available for Android (APK) and Windows devices and soon will be available for iOS devices too.
If the PC version is not working then you can use Android emulators like Bluestacks, MeMU Play, Nox Player, etc. They will help you run Android games on your PC.
Download Gacha Art MOD (APK) For Free
Downloading Gacha Art APK is a very simple task. Below we have given a direct download link for the APK file.
Once you click on the Download button your download will start automatically.
How To Install the APK Files
Open the Downloaded APK and click on the Install button.
It will ask you if you want to install the application click on yes.
The application will be installed, open it and enjoy.
| | |
| --- | --- |
| Application Name | Gacha Art |
| App Version | v1.1.1 (Updated) |
| File size | 228 MB |
| Developer | Bakugou Rima |
| Requirements | Android v5.0 or above |
| Price | Free |
| Updated | 30 minutes ago |
Check Out:
Download Gacha Art MOD For PC
We have made it simple for you to download the Gacha Art MOD file for your Windows devices, as we have attached a direct Download link below.
Firstly Click On The Download Button Below
The file will automatically start to download.
Now Click on the Downloaded MOD File and Install it.
Congratulations You have installed the latest version of the Gacha Art MOD, open it and enjoy.
Download Gacha Art MOD For iOS
Unfortunately, the MOD is not available for iOS users, because it is impossible to upload the mod application in the app store due to security reasons. But don't worry developers are looking for solutions, if there will be any update then you will be notified, just Bookmark the website (gachaverse.club).
Features
Designing a game character and customizing it takes a lot of time but with this mod, you can customize your game character however you want.
This way you will be able to style your gacha character faster and easier than ever. Below we have mentioned a list of features this mod offers.
What's New
New Costumes
New Hairstyles with added physics, now the hairs will fall and bounce, that's a very unique feature.
Bug Fixes with the update.
New Futuristics-looking backgrounds.
The app is only available on Android and PC.
New Props with some other games references.
New Poses and much more to come.
How To Update Gacha Art MOD
The Gacha Art is a popular mod in the Gacha community and the game is constantly evolving and you will see many new updates and events regularly.
It is an addictive game, but it is not the original version of the game because it's a modified version.
It means if there will be an update for this application then you have to manually update the game by re-installing it.
You might be worried about the data loss, but don't worry, you just need to export the game files and import them after re-installing the updated version of the game.
Bookmark our website now (gachaverse.club) for any future latest updates and other Gacha Mods.
Faq
Is Gacha Art Available on Play Store?
This is one of the best gacha mods but unfortunately, it is not available in Playstore. You can download the APK file from this website.
Is Gacha Art a Real Game?
Yes, It is a revolutionary game for anime and Gacha lovers.
What Is Gacha Art Mod?
It is the modified version of the original popular game "Gacha Club." It's a fan-made mod for gacha lovers created by Bakugou Rima .
Gacha Art Features?
< New Outfits.
< New Futuristics looking backgrounds.
< App is only available on Andriod and PC.
< New Props with some other games references.
< New Poses and much more to come.
Conclusion
Gacha Art mod will be a game changer for all Gacha lovers, with this app you can turn your imagination into reality. Gacha Art is not just this there is much more to come soon.
User's Rating
[Gacha Art]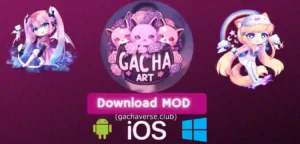 Today we have a brand new Gacha mod named "Gacha Art". By just the mod's name, you can assume it will be an artistic mod.
Price: Free
Price Currency: $
Operating System: Android 5.0, Windows 7, iPhone 5s or above.
Application Category: Game